On October 15th, Mary Williams, Features Editor of The Plant Cell delivered a presentation on How to prepare your manuscript for publication and what happens after you submit it. The seminar was extremely popular and more than 130 faculties and students attended the seminar, who filled to the seminar room to the bursting point.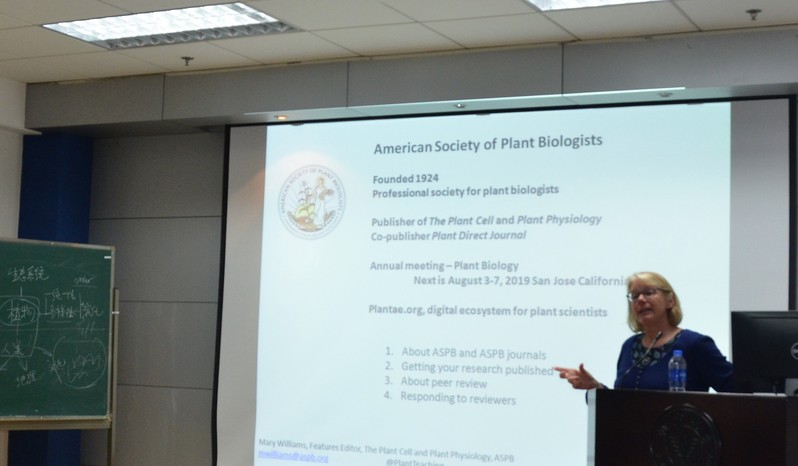 Mary Williams is the Features Editor for the journals of The Plant Cell, and Plant Physiology. Both are high impact factor journals for Plant Sciences. Her researches on plant nutrition and water physiology were published in many major academic journals as The Plant Cell. She also made a lot of teaching tools for The Plant Cell.
In this presentation, she outlined the key steps in writing a paper and preparing figures. Key points included how to frame the significance of the question being addressed and how to put the results in context, as well as how much information to include in the methods. She also discussed best practices for figure presentation, from cropping and contrast adjustment to layout and design, and provided suggestions for how to present the key findings in the abstract, title, summary figure and cover letter. The second part of the presentation covered how the manuscript is reviewed, from initial submission to final acceptance, in order to demystify this process and help early-career researchers understand how they can ensure a smooth process. She described the author's roles at various stages of the review process, how editors and reviewers are solicited, how a decision is reached, and how authors can respond to reviewer comments.